A full toolkit: AR, VR, 3D printing and rapid molding
Let's get to "done" fast!

Our customers often tell us that Radius was able to take a project from concept to reality faster than they ever could. How? We work as a nimble extension of your own team. We consider all manufacturing processes and materials. And we leverage a full toolkit of resources to get it done.
Hybrid Prototyping

Most people stop at 3D printing a part when they want a prototype. While 3D printing is a great additive manufacturing tool, it's far from the only one.
Radius uses augmented reality (AR), virtual reality (VR), photo and video rendering to bring projects to life virtually. Once the concept is done, we move to the physical world. This is often a combination of 3D printing using a wide range of material options and actual molded parts that can often produce real molded parts in as little as 5-10 days!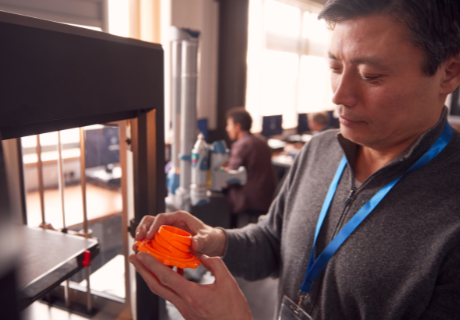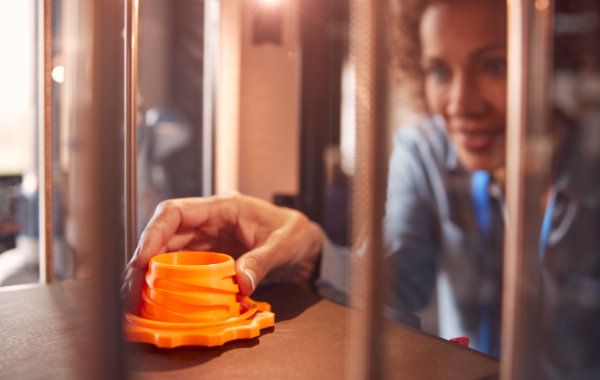 Hybrid Prototyping vs. Traditional 3D Printing
Radius uses a hybrid of prototyping methods to accelerate the design and validation of products. By using 3D printing technology along with rapid molded parts, customers can cost-effectively prototype a product's design and function quickly.
Our rapid mold development system provides molded rubber and plastic components in as few as 5-10 days. This is perfect for applications requiring physical properties, such as sealing applications where a specific rubber elastomer is required, but where 3D printed components are acceptable to simulate plastic components (which will later be injection molded in production).
This hybrid of traditional and additive manufacturing is another way where Radius' breadth of manufacturing options helps customers quickly design, test and validate their products.
Selecting The Right 3D Printing Material
3D printed parts are great for providing an approximation of the parts you are designing to simulate what molded parts will be like. However, in some cases, it is necessary to use our hybrid prototyping system to combine 3D printed parts with molded parts from rapid molds made in just days.
Printed prototypes can be an excellent choice for evaluating form, size and shape. Some materials also provide the ability to evaluate fit of components in an assembly. In order to evaluate performance based on your needs, it is important to select the correct material. The guide below describes some of the materials Radius keeps on-hand at all times and the molded resins they simulate.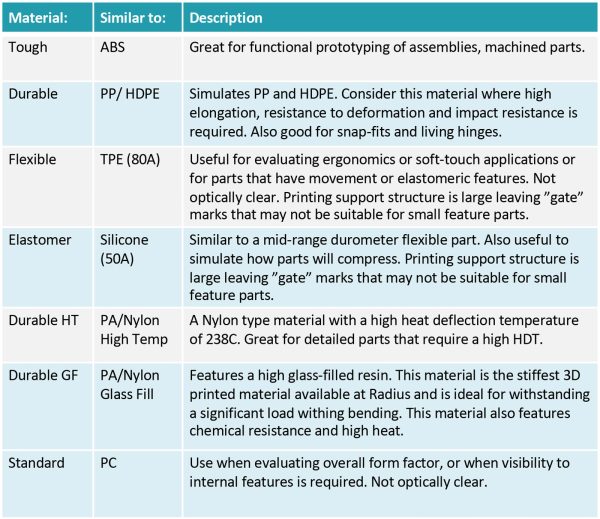 3D Printing Rapid Prototype Services
Radius' most common 3D printing services feature FormLabs printing devices. Radius maintains a wide range of materials on-hand for rapid prototyping of components and assemblies and offers standardized pricing based on the material type required for the application and the size of the parts that will print on the platform bed.
Enhanced 3D Prototyping Services
Radius also offers several enhanced prototyping services designed to meet the specific requirements of demanding projects. These include:
Large form-factor 3D printing
Rapid molded rubber components
Cast parts from 3D molds
Printed metal components
Enhanced cleaning services
Hybrid prototyping for assemblies
Contact Radius today to learn more about how we can use rapid prototyping to accelerate your project!
We work as a nimble extension of your own team and seek to transparently help, educate and solve problems.
What we do:
Defining critical features
Material selection (or creating new ones!)
Design for manufacturability
Simulations to approximate real world results
Hybrid prototyping for rapid development
Typical projects:
Assembly & Sub-assembly development
Metal to plastic conversions
Sealing applications
Tolerance stackups
Prototyping and validation